Oakland Arena | Oakland, California
The legendary Queen of Romantic Quiet-Storm R&B/Soul, no other than Anita Baker, is taking back her reign on the live stage, announcing an extensive Songstress Tour for 2023, her first full-tour trek since 1995. The Grammy Award-winning superstar is celebrating forty years in the industry, set to perform her legendary hits, fan favorites, and new music live on stage at Oakland Arena on Saturday, 23rd of December 2023. As the Songstress looks forward to crazy and lovely nights on tour, make sure you're part of the royal crowd by booking your tickets now!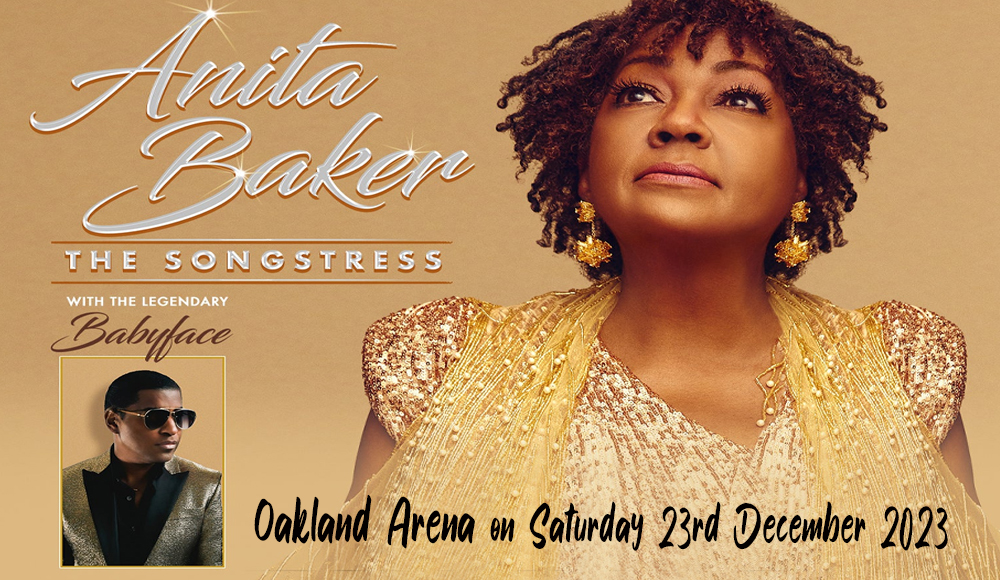 The eight-time Grammy Award-winning legendary soul singer-songwriter, Anita Baker, is making her live stage comeback on a full tour since her last trek in 1995. The Songstress Tour will hit the road for a special run across 15 cities, joined by special guest Babyface. Baker will be celebrating forty years of being an icon in the music industry. Her debut LP "The Songstress" was released in 1983, featuring her hit singles "No More Tears", "Angel", and "You're the Best Thing Yet".
As her journey turns 40, the best yet finally came, a massive comeback tour led by the queen herself. Acclaimed as the Queen of Romantic Quiet-Storm R&B/Soul, Anita Baker is "Looking forward to some crazy, lovely, hang time with my fans, on tour in 2023!!".
"Gonna, bring some new music & some special guests, too." the singer shared on Instagram.
With hints of new music slated for the tour, the singer shared a preview of an unreleased song "Unconditionally Yours" on Twitter. The track was said to be first teased over a decade prior, stirring much excitement from long-time fans. She cited influences from the likes of Sarah Vaughan, Patti LaBelle, and Aretha Franklin as her "80s Contemporarys", along with "Innovators" Missy Elliott and Beyonce. Baker shared that the singers inspire her to keep creating her very own "little Miracles of Music".
"2023 Coming Straight to YOU," Baker tweeted. "This time…With *My Own* catalog, sO Grateful, *MiraclesOfMusic*".
As her smooth and soulful ballads rise back to the live stage, The Songstress Tour is set to mark history as Baker celebrates her 40-year reign as a queen in the industry.
"I hope that my music has touched people's lives in a positive way," Baker told NPR. "That's really all I could ask for as an artist."
Anita Baker's decades of legendary hits include "Angel", "Sweet Love", "No One in the World", "Same Ole Love (365 Days a Year)", "Giving You the Best That I Got", "Talk to Me", "You're My Everything", and "Lately". With millions of records sold around the globe, Baker is referred to as the "Queen of Romantic Quiet-Storm R&B/Soul". She is also one of the most influential R&B artists of the '80s.
Having sold over 24 million records globally, Anita Baker is definitely one of the industry's biggest queens to make an impact for generations of artists to come. "Anita Baker's music is timeless," Mary J. Blige told Rolling Stone. "Her voice is like no other. Her music has been the soundtrack to our lives."
As the queen takes her reign back on the live stage, make sure to be part of the royal crowd at The Songstress Tour by booking your tickets now!