Oakland Arena | Oakland, California
Are you ready for Carrie Underwood?? The country star is coming to the Oracle Arena on Thursday 16th May 2019 as part of her Cry Pretty Tour, with incredible support from Maddie and Tae and Runaway June!! It's going to be amazing – make sure you've got your tickets!! Book now!!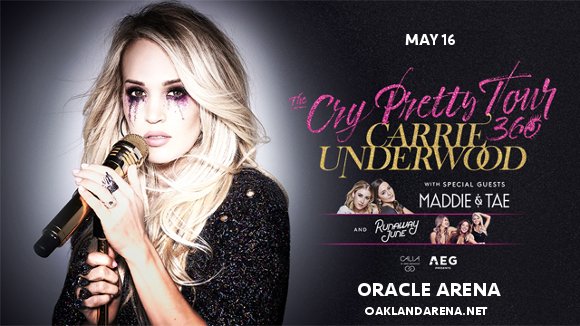 In keeping with what have been interpreted by many as political statements on her latest album, Carrie Underwood is breaking the norm with her all-female tour lineup – typically female headliners have at least one male support act. "I hate rules," she said, simply, when asked about the decision in an interview. "I hate being put in a box. I think it just came down to 'Who's going to be great to watch? Who is talented? Who is hardworking? Who is great to be around? Who can just bring it all?' It just so happened that the answer was women."
And the tour looks set to sell out – clearly, the move hasn't hurt her career in the slightest. If anything, true fans will have a stronger respect for her than ever for being true to her principles. It looks set to be an incredible show – don't miss out!! Book your tickets to see Carrie Underwood today!!