Oakland Arena | Oakland, California
The Grammy Award-winning contemporary worship band, Elevation Worship, and award-winning songwriter and pastor from Elevation Church, Steven Furtick, are back to gather believers to the altar and spend special nights in worship. Premier Productions and Elevation Church announced the continuation of the Elevation Nights Tour – including a stop at Oakland Arena on Tuesday, November 1st of 2022. With a roster of faith-igniting worship tracks that helped believers around the globe find hope amidst life's uncertainties, it's undoubtedly a special time to join fellow believers in laying it all to the One at Elevation Nights. The altar awaits, book your tickets now!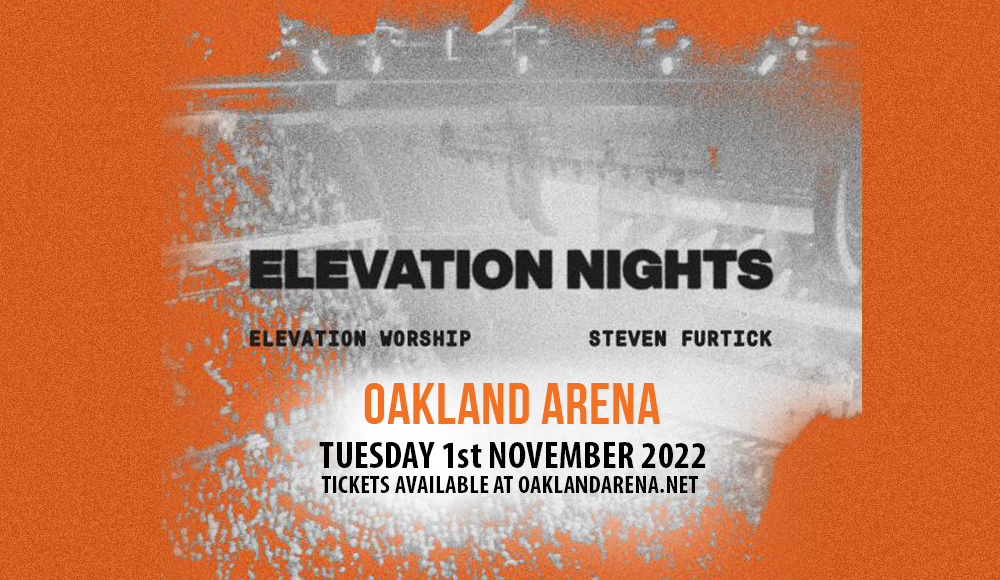 After two successful tour runs, Premier Productions and Elevation Church are taking the faith, hope, and love even greater as they announce the continuation of the Elevation Nights Tour with Elevation Worship and Steven Furtick this fall. Believers are in for a powerful and life-changing worship experience as the church gathers thousands of God's children in arenas on the West Coast, all crying out in worship.
"We are so pleased to finally be bringing Elevation Nights to the West Coast," shared Jonathan Roberts of Premier Productions. "Coming off of some incredible highlights earlier this year including sold-out nights in Newark, Chicago, and 14,000 strong in Columbus, OH, we are ecstatic to see what these nights will bring to each city."
It undoubtedly is a life-changing experience to be able to join praise and worship with thousands of believers in one huge venue, singing powerful lyrical and melodic praises crafted by those called into the ministry – Elevation Worship.
Elevation Worship is rooted in Elevation Church in North Carolina, releasing four independent worship albums before scoring a record deal with Essential Records. When they released their album "Kingdom Come" in 2010, the record hit #5 on the Billboard Heatseekers chart, #42 on Independent Albums, and #17 on the Christian Albums charts. The record featured their crowd-favorite hit song "Give Me Faith".
From then on, Elevation Worship has been committed to the ministry of winning souls for the Lord – through their powerful music that has reached the ends of the earth. Elevation Worship's biggest hits and worship crowd-favorites include "O Come to the Altar", "Do It Again", "See a Victory", "The Blessing" with Kari Jobe and Cody Carnes, "Graves into Gardens" feat. Brandon Lake, "Resurrecting", "Give Me Faith", and many more.
As Elevation Worship and Steven Furtick embark on a tour where they'll not only perform, but create a movement of strengthening the faith, the Elevation Nights Tour hopes to make a night that's more than just a concert for attendees. "These nights have become some of the most special times of ministry I've experienced." shared Chris Brown of Elevation Worship. "Gathering with thousands of others to have our faith inspired through worship, and hear a word from God through Pastor Steven makes these nights so much more than a concert. We can't wait to see how God moves each night."
Earlier this year, the worship group released their highly-anticipated album "LION" which features their powerful single "Same God" feat. Jonsal Barrientes. "It's not been written or recorded like any other album we've had," said Brown. "We didn't start writing with a particular album or end goal in mind. We just began to create and capture songs throughout the year and eventually found ourselves with this collection of songs that we loved."
With music that has ignited faith for believers around the globe over the past decade and for years to come, Elevation Worship is committed to their calling of being God's lyrical and melodic messengers who exalt praises high through powerful music that promotes their signature take on personal faith, hope, and love. Join thousands of believers coming together as one, lifting your praises high, all for His glory at Elevation Nights with Steven Furtick at Oakland Arena this November 1st by booking your tickets now!
"For where two or three are gathered together in My name, I am there in the midst of them." Matthew 18:20