Oakland Arena | Oakland, California
One of the industry's hottest rappers known for his unique vocals and sick bars, Future, is throwing a big party as he hits the road on his new ONE BIG PARTY Tour. Bringing along special guests, the rapper is pumped up for the party as the trek makes a special stop at Oakland Arena on Saturday, 1st of April 2023. The big announcement follows the massive success of his seventh studio record "I Never Liked You" featuring its hit single "Wait For U" featuring Drake and Tems. As Future hosts his One Big Party live on stage, fans are in for a sick night as the rapper hits the stage. Book those tickets now!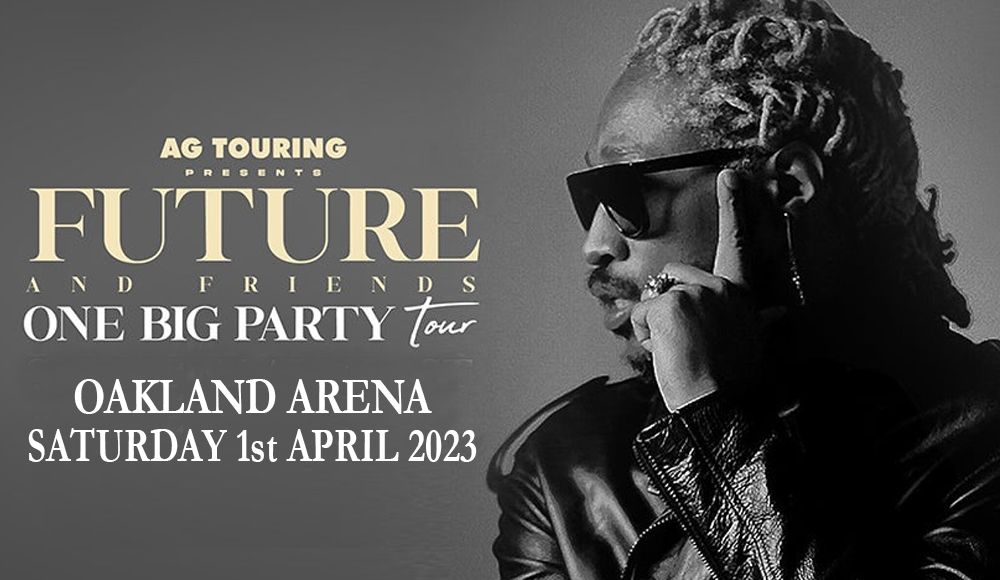 "ShowTime." the "March Madness" rapper announced on the interwebs. "I'm ready To bring ONE BIG PARTY too your city! PLUTO,". Future is set to throw huge celebrations across arenas around the country at his brand new ONE BIG PARTY Tour. Following the massive success seventh consecutive #1 album "I Never Liked You", the rapper is taking his 'mask off to hit the stage on tour.
Named as one of the "best rappers alive" by GQ, Future took the rap scene by storm for his dynamic flow and unique mumble-styled vocals with his strong personality. The man produced a slew of hit singles including "Turn On the Lights", "Honest", "Fuck Up Some Commas", "Where Ya At" featuring Drake, "Jumpman" with Drake, "Fine China" with Juice Wrld, "Life Is Good" featuring Drake, and "Mask Off".
According to reports, the tour's special guest will feature some of the industry's hottest rappers to join him on the road at ONE BIG PARTY. During the tour's stop at Charlotte, the rapper brought along T.I. and DaBaby, joined by EST Gee, Doe Boy, Banyface Ray, and Lil Durk. As the big party brings in big names, stay tuned for big surprises at the tour.
Rapping "Don't play 'bout the legacy" on his new record, Future is set to deliver his biggest parties on stage. With over a decade of hit singles and acclaimed records, the 39-year-old rapper has a lot to offer. Ready to blast off, the "March Madness" rapper is set to take his "mask off" and rap like there's no tomorrow.
Book your tickets now!