Oakland Arena | Oakland, California
Get ready world, for a showdown between the "Mexican Madonna," and the "Queen Of Mexican Rock" – world-renowned recording artists Gloria Trevi & Alejandra Guzman are on a massive comeback tour, coming to Oracle Arena on Saturday 9th September 2017! Their massive personalities and daring, provocative live shows in combination promise for a show unlike anything you've ever seen before. Guaranteed to be a sell out show. We're all very excited! Hit the "Buy Tickets," button above to be sure of your place.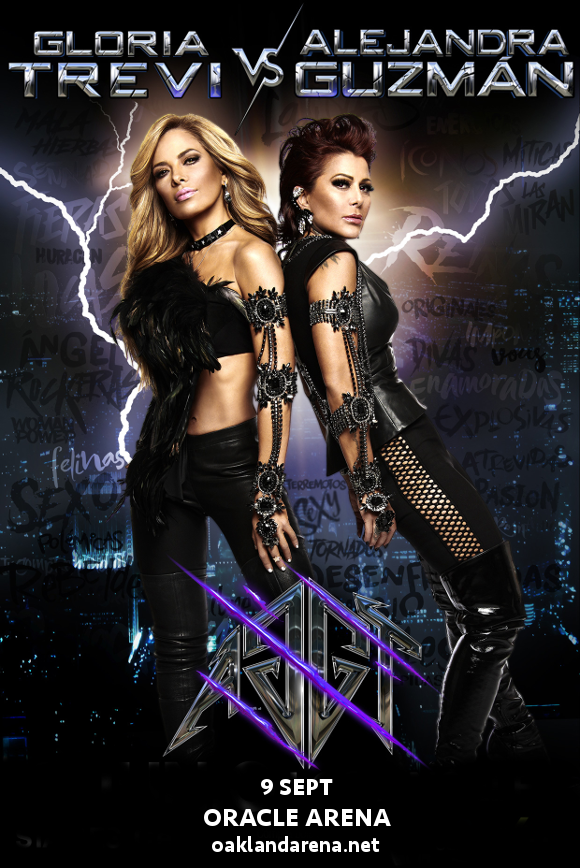 Born n Gloria de Los Angeles Trevino Ruiz, Gloria Trevi dreamed of stardom from the age of 5, when she learned poetry recital, going on to take lessons in dance, piano and drums. Aged 15, she went alone to Mexico City to chase her dreams. In 1989 she released her debut album, "Que Hago Aqui? (What Am I Doing Here?)" an instant chart hit!!
Alejandra Guzman was similarly born for stardom – daughter of the actress Silvia Pinal and Mexican rock star Enrique Guzmán, she took singing, dancing, and acting lessons as a child and toured with her mother's theatrical troupe. After graduation, she made multiple television appearances and worked as a backing singer before releasing her debut album, "Bye Mama", in 1988, which brought her instant success.
Don't miss out on your chance to see the Mexican superstars live – book your tickets to see Gloria Trevi and Alejandra Guzman TODAY!!