Oakland Arena | Oakland, California
Featuring a star-studded lineup of comedians, the Royal Comedy 2022 tour is coming your way to the Oakland Arena on Friday, 11th of November, 2022. It's gonna be a laughter-filled night featuring world-class comedians Sommore and Bruce Bruce live on stage. Joining stand-up comedy's king and queen on stage are Lavell Crawford, Don DC Curry, and Arnez J. As venues have opened in full swing this year, get yourself a dose of comedy goodness at Royal Comedy 2022 by booking your tickets now!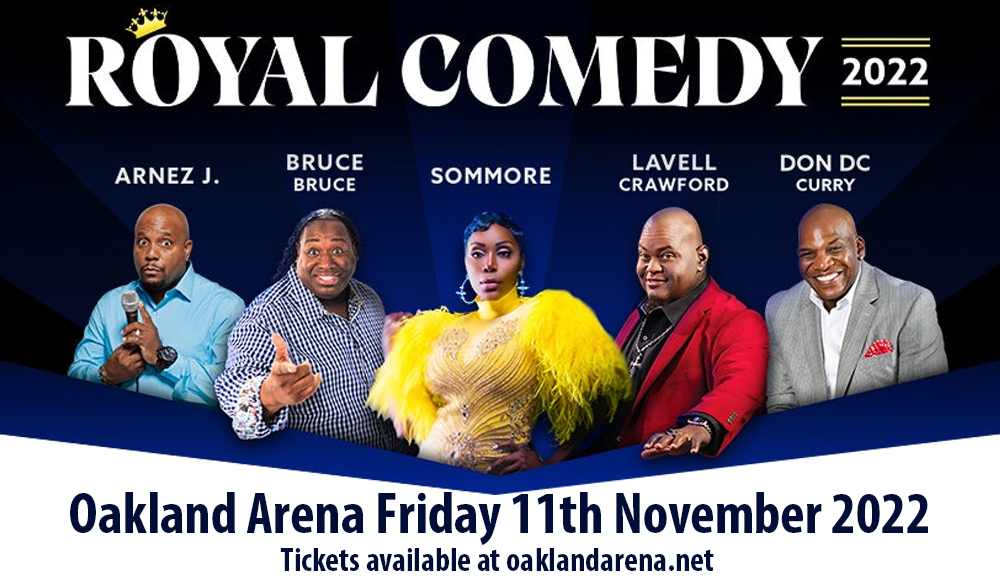 The Royal Comedy 2022 tour features a world-class star-studded lineup of comedy's best kings and queen – Sommore, Bruce Bruce, Lavell Crawford, Arnez J., and Don DC Curry. Produced by North American Entertainment Group Inc., the 17-city tour makes its first show in Los Angeles, then heads on to Oakland on November 11th.
Dubbed as "Diva of Contemporary Comedy", Sommore's comedy goodness goes around her striking sarcasm and frank banters on Sex, equality, and money. She's appeared in various TV shows and films including The Queens of Comedy. She also has stand-up special comedy releases since 2007 with "Sommore: The Queen Stands Alone", up until her newest 2019 special "All The Queens Men".
Bruce Bruce is one of the country's favorite joke tellers, rising from Atlanta's stand-up scene. With his amazing improv and 'larger than life' comedic skills, he's been entertaining audiences both young and old for years with his unique wit and captivating charm. He's appeared in various films, TV shows, and podcasts throughout his comedy journey. You can catch him guest-starring in Netflix's "Family Reunion" with Loretta Devine (2021).
Joining the two are comedy kings Arnez J., Lavell Crawford, and Don DC Curry.
So, take a dose of some laughter and a good time at Royal Comedy 2022 by saving your seats and booking those tickets now!