Oakland Arena | Oakland, California
With a critically-acclaimed new album as fans waited five years for its release, R&B superstar Sza just announced her first-ever "SOS" arena tour, bringing along special guest Omar Apollo. Earning her first #1 album on the Billboard 200, SOS features her new emotionally-driven lyrical masterpieces "Shirt" and "Nobody Gets Me". Don't miss out as the queen conquers the stage at Oakland Arena on Tuesday, 14th of March 2023, giving SOS its live treatment and performing her biggest hits and fan favorites live on stage. As she celebrates this big milestone on her first-ever headlining arena tour, make sure you've got your tickets booked before they run out!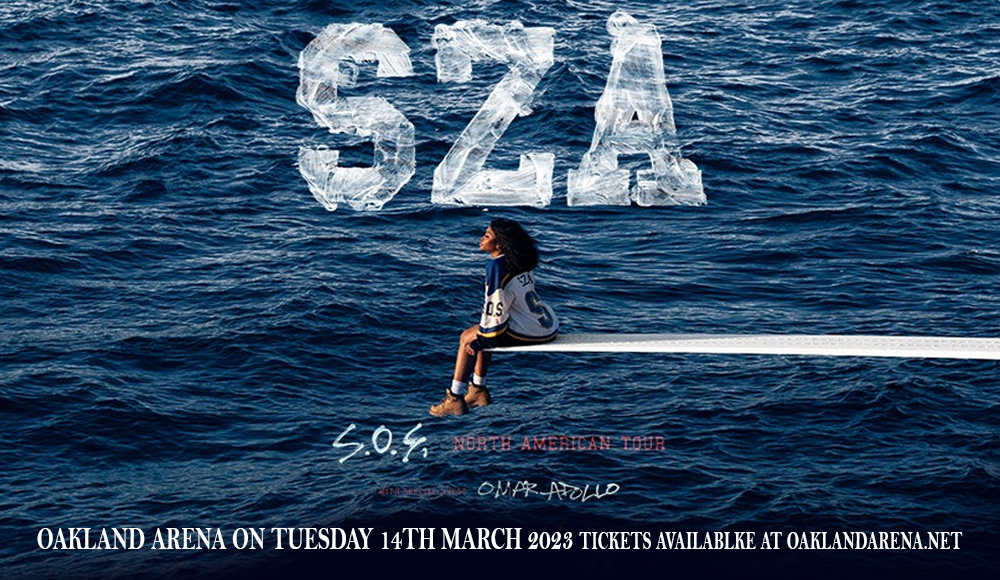 Taking the industry by storm with her highly acclaimed debut LP "Ctrl" in 2017, the R&B superstar just released her new album "SOS" on December 9, 2022. The record marked her first #1 on the Billboard 200 as she "never thought in a million years that people would like it", in an interview with Rolling Stone. As "SOS" dominates the airwaves carrying its anthems "Shirt" and "Nobody Gets Me", Sza will be performing her sonic masterpieces live on stage at her first-ever arena tour. Joining the tour would be rising R&B star, Omar Apollo, as the supporting act.
"Time to take this shit on the road!" the singer shared on social media as she announced the SOS arena tour.
Having previously shared that she wasn't sure if the public would like her new music, citing situations of herself ranting "Ugh, this shit is so boring' or 'it sucks", Sza recalls inner conflicts that propelled her to take on the challenges she faces in the industry. Five years in the waiting, "SOS" gracefully dominated the charts, marking history for what she used to describe as a "bizarre acts of self embarrassment".
Though finding her place in the scene in 2011, Sza rose and found her breakthrough in 2017 through her debut LP "Ctrl". The album featured her hit singles "Drew Barrymore", "Love Galore" featuring Travis Scott, "Broken Clocks", "Garden (Say It Like Dat)", and "The Weekend". As she worked on her universally-acclaimed debut LP, the singer was also writing songs for the likes of Beyonce and Rihanna. In 2017, she received five Grammy Award nominations, the most for any female artist in 2018.
Beyond her solo efforts, Sza also starred in various collaborations and features with other artists including global hit singles "What Lovers Do" with Maroon 5, "Homemade Dynamite (Remix)" with Lorde, Khalid, and Post Malone, "Just Us" with DJ Khaled, and "Kiss Me More" with Doja Cat.
With a shiny new album up her sleeve, the queen found herself mistaken as SOS rose to the top of the charts, universally raved about by fans and critics alike. Variety notes that "'SOS' isn't simply a statement piece: It's practically a new bible of abstract contemporary soul,". Pitchfork summarizes their review of the album as "SZA's long, ambitious, luxurious new album solidifies her position as a generational talent, an artist who translates her innermost feelings into indelible moments."
As SOS continues to shine bright and mark a bright 2023 for the R&B star, don't miss out on this chance to witness Sza celebrating this milestone live on stage at the SOS tour by booking your tickets now!