Oakland Arena | Oakland, California
"I said at the end of the last tour that I'd see you next time. I said I was going to get back to you. Well, I got back!"—Paul McCartney
He's always been here, there, and everywhere, with the universal, timeless, and multi-generational of his music. But Paul McCartney is showing no signs of slowing down as his latest tour de force will be running full speed ahead, headed for a highly anticipated show at Oakland Arena on Sunday 8th May 2022. Paul McCartney is getting back to where he once and always belongs – the live concert stage where he brings the crowd up on their feet and singing at the top of their lungs. McCartney's live music is always relatable, relevant, and a riot! From timeless, heart-rending classics such as "Yesterday", "Here, There, And Everywhere" to the anthemic, raucous-arena-rock rhythms of "Hey Jude", "Band On The Run" or "Sgt Pepper's Lonely Hearts Club Band", a McCartney live concert experience is everything any music lover could ever want from a rock show: Hours of the greatest moments from the last 60 years of music. Paul McCartney got back, so get your tickets now!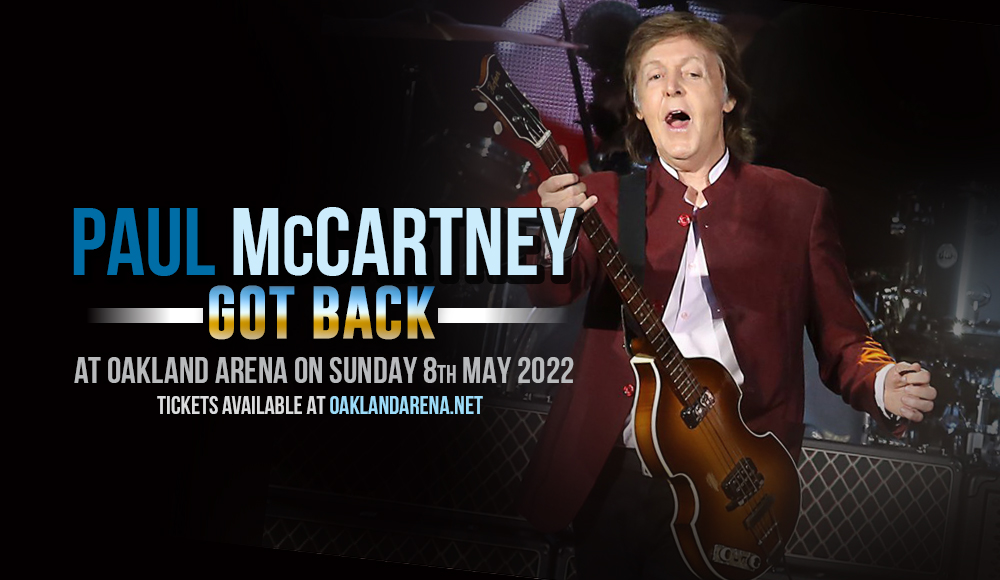 "Macca continues to put artists half his age and younger to shame with epic shows featuring his crackerjack band and a jukebox of hits"—ENTERTAINMENT WEEKLY Best Live Music Performances of 2019
"The best thing about a McCartney show is how many generations of people leave with the broadest smile upon their face. Whether it's the first time they've seen him or the tenth, he never ever disappoints."—FLAUNT
Those are just some of the latest music reviews for McCartney's 2019 concert tour "Freshen Up". Yes, this is a 78 year legend who gets back time and time again to the concert stage to whip-up some of the most magnificent songs ever written and recorded. In all phases of his astonishing and illustrious music career spanning six decades, Paul McCartney always has a hit record. McCartney has written, or co-written, 32 number-one singles on the Billboard Hot 100: twenty with the Beatles; seven solo or with Wings. He is the only artist to reach the UK number one as a soloist ("Pipes of Peace"), duo ("Ebony and Ivory" with Wonder), trio ("Mull of Kintyre", Wings), quartet ("She Loves You", the Beatles), quintet ("Get Back", the Beatles with Billy Preston) and as part of a musical ensemble for charity (Ferry Aid).
The Guinness Book of World Records recognised McCartney as the "most honored composer and performer in music". His honours include two inductions into the Rock and Roll Hall of Fame (as a member of the Beatles in 1988 and as a solo artist in 1999), an Academy Award, 18 Grammy Awards, an appointment as a Member of the Order of the British Empire in 1965 and a knighthood in 1997 for services to music.
For an artist who is literally at the top of his game, with the world at his feet, he should now be sitting on his laurels. Not Paul McCartney! He gets back and now has got back to the live concert stage where he truly belongs. Now it's your turn — Get your tickets now!