Oakland Arena | Oakland, California
Still showing no signs of slowing down nor resting on his laurels, Paul McCartney is back on the road again for his North American 'Got Back' Tour this 2022. Well, he's always been here, there, and everywhere, being the most successful composer and performer of all time, bar none. As Beatle Paul, or the Wing main-man, or as Macca -the solo artist, McCartney stands out with his record-breaking, chart-topping, and award-winning singles, albums, shows — anything and everything under his discography. Paul McCartney's live shows are sure-fire, real all-killer, no-filler. Literally, everyone from all walks of life and all generations can sing-along, dance-along, and cheer-along, as Paul fires up the stage with his biggest hits from The Beatles era, Wings catalog, and solo-Paul ditties. Due to overwhelming public demand, Paul McCartney's "Got Back" tour has opened up a slot for a show at the Oakland Arena on Friday 6th May 2022. This one trumps all the shows on your bucket list! Save the date, lock in your tickets now!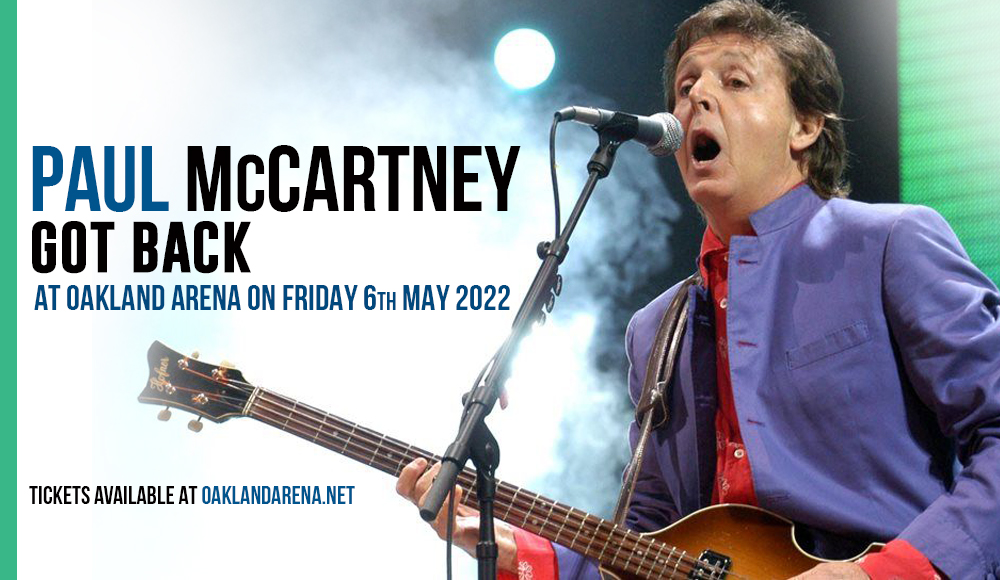 The Guinness Book of World Records recognized McCartney as the "most honored composer and performer in music". If we go by the numbers, McCartney has collected 60 gold discs (43 with the Beatles, 17 with Wings) and, as a member of the Beatles, sales of over 100 million singles and 100 million albums. McCartney has written, or co-written, 32 number-one singles on the Billboard Hot 100, and, as of 2009, had sales of 25.5 million RIAA-certified units in the US. And to top that, at the age of 78, his 2020 album McCartney III charted at number 2 on the US Billboard 200 earning McCartney the feat of being the first artist to have a new album in the top two chart positions in each of the last six decades. Now think of the grandest and most prestigious awards in music…Paul McCartney has most likely gone up the stage and received them. He has had two inductions into the Rock and Roll Hall of Fame (as a member of the Beatles in 1988 and as a solo artist in 1999), an Academy Award, 18 Grammy Awards, an appointment as a Member of the Order of the British Empire in 1965 and a knighthood in 1997 for services to music.
Those record-setting and breaking facts and numbers may just well be icing on the cake in Paul McCartney's legendary and illustrious career. The staggering impact and influence of his music go far beyond… During his "cute Beatle" days as a member of the Fab Four, hits like "I Saw Her Standing There", "She Loves You", "I Want to Hold Your Hand" (1963), and "Can't Buy Me Love" (1964), started a phenomenon called "Beatlemania". As The Beatles' music began to evolve, McCartney, along with his equally genius partner John Lennon, wrote some of the most beautiful and everlasting songs that touched the hearts and lives of many. Songs like "Yesterday", "Here, There, and Everywhere", "Let it Be" are such timeless gems. Delving deeper, exploring, and experimenting with sounds, McCartney was majorly responsible for groundbreaking albums such as "Sgt. Pepper's Lonely Hearts Club Band", "The White Album", "Abbey Road", "Revolver". All these, along with his Wings and solo projects that spawned iconic hits like "Band On The Run", "Live and Let Die", "Ebony and Ivory", Maybe I'm Amazed", to name a few, inspired and influences a great number of singers, songwriters, bands, concert performers that we hear and enjoy to this day.
"I said at the end of the last tour that I'd see you next time. I said I was going to get back to you. Well, I got back!", says McCartney. Now that's your cue — go click on that 'get tickets' link right here, right now!